We feel that workspaces should be creative and reflective, showcasing personality and providing inspiration. And, since we're preparing to move into new digs (filled with more sunlight!), we are on the prowl for décor that will amp up the creativity in our fresh space. A print we discovered recently in a design mag would not only look perfect in our new office, but it provides a terrific, quick marketing lesson!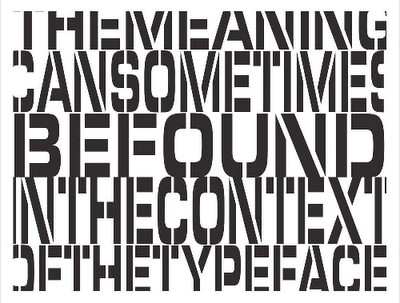 "The Meaning Can Sometimes Be Found in the Context of the Typeface."
As marketers, we rely on copy and imagery to communicate our stories. But there are other, more subtle methods like color and typeface that can be equally effective as the "Big Two." If you aren't already familiar with the site dafont.com, check it out to kick start your brainstorm about your next ad or promo. Be aware that some fonts won't appear correctly when used in regular HTML, so consult your web designer before planning your whole campaign around one of these amazing fonts. Check out a few examples of fonts that convey so much more than words:




Have you ever come across a typeface that has really said it all in the lettering? What's your favorite font? Share it with us!
Posted by: The Promoter (Mackenzie Michel)