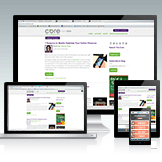 "If it ain't broke, don't fix it."
We've all heard the famous phrase suggesting you shouldn't waste your time and energy fixing a problem that may not exist. However, when it comes to your marketing, changing something that isn't broken can make a HUGE difference!
As a reader of our blog, The Core, you can see change happening right here. It wasn't boredom or fatigue or even performance that encouraged this latest remodel, but rather our desire to create the best user experience we possibly could for our readers.
We asked ourselves if we were giving you the best possible experience on your desktop, mobile phone, and/or tablet. The answer was "no, not yet."
And so with that, we knew we needed to evolve our blog into something more helpful and dynamic for you, even though The Core is performing at an all-time high. In 2014, The Core reached a record number of visitors, subscribers and email open and click rates. Change is never an easy task, especially when something "isn't broken." But considering The Core is one of our TOP sales generation tool, we felt the risk was necessary for not only our business, but for you too!