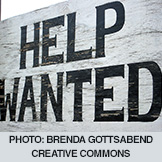 As our company grows and as the practice of marketing evolves, recruiting the right people can often be a challenge for me as a relatively new entrant into the human resources area of the business.
Recruitment is all about identifying candidates that meet certain requirements to fill the role of an available position at your company. And when it comes to hiring, we've learned just how imperative one person's impact can be on the health of our team and organization. When done well, an exceptional recruiting strategy can serve as a long-term, sustainable succession and leadership opportunity for your marketing department and business in the future.
When we recruit marketers to work at DMA Solutions, we're looking for people with a "marketing it factor" that are not only prepared to do the work outlined in the job description but also people that can adapt to the ever changing environment (of marketing, DMA and the produce industry) with a healthy attitude, sense of ownership, and passion for the work that we do on a daily basis.