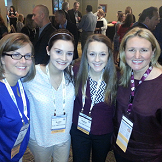 The old adage "time flies when you are having fun" couldn't be more true for me as I walked the show floor for my 20th Fresh Summit expo last week. So many emotions were flying through me, but above all I felt grateful. I am grateful for all I have experienced and learn from this rewarding career in fresh produce and I am even more grateful for the sincere feeling I have that in many ways it feels like my journey is just beginning.
The truth is, a career in fresh produce is far more than a "job" or a place where one lands out of college. It is a calling, a path and a passion. No matter the recruiting or onboarding sophistication a company may deploy when hiring talent, it doesn't take a person long to see that their "work" in fresh produce has a meaningful purpose.
I originally wrote this post on the eve of our 10th year in business at DMA Solutions. After the trip to Anaheim, specifically after meeting and speaking with the students in the Pack Career Pathways program, I felt compelled to share again the 10 reasons why I believe a career in fresh produce is so rewarding.