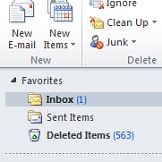 Between high priority emails and all of the information that we need to digest daily, you may often find yourself deleting emails from your favorite brands or stores. Well, except that email that had a subject line saying to sign up for back to school deals (or to meet a celebrity, or for discounted concert tickets, or whatever your vice is!) You probably read that one, right? That's great email marketing and smart subject lines at work!
The reason you open emails like these is because the subject line got your attention, probably in 3 seconds or less. And that's all we have: 3 seconds or less to capture someone's attention or your email hits the trash. Change the course of your emails' destinies with these tips for writing killer email subject lines:
Make it Personal
Personal messages are at the top of the interest scale in a Mail Chimp Subject Line Study. You can not only add a personalization field to the subject to pull the contact's first name, but you can include other personal information like city or state to improve open rates.
Clearly Indicate What's Inside
Sometimes the best subject lines are the most straightforward. Just tell the recipient exactly what is in the email and what they are going to get out of it or learn by clicking. For example, you could tell them they can "get recipes for summer" or you could say that they will "learn 10 ways to preserve lemons." We love witty and clever writing as much as the next person, but we've learned the hard way that at the expense of clarity, wittiness won't do much for your email open rates.